Work Headwear for chefs from Red Kap
Work Headwear for chefs from Red Kap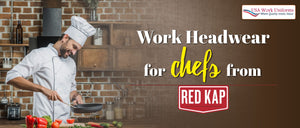 Not every person can carry off those beautiful cute kind of chef work Headwear like chefs- who look adorable wearing them. Maybe a couple may imagine that it isn't even a game for them!
But, as a chef, wearing a work headwear is all you need to prevent that hair in the served soup!
We know how gross it is… But we also know how important the chef work headwear is! 
Chefs of today need a head to toe attire to cover themselves. It is not just because food may spill on their dress and may ruin it. It is mainly to restrict the bacteria from entering the food preparation zone and also to the food and cause more harm than good. 
When hygiene is what everyone demands, it is a must for a chef to wear proper chef work uniforms and work headwear.  With many ISO and HACCP protocols coming for food and safety purposes wearing non-standard clothes will cause an NC for your company and might put your job at risk. 
If you are a restaurant owner looking for chef work uniforms and work headwear for your chefs to maintain standards, then you are on the right platform!  
Without putting your company into risk as per food safety standards, buy your chef's the required chef work uniforms.
If there is any chef concerned about the looks, wearing a chef work uniforms does not mean that a chef must look boring and dull, instead of a chef when picks, the right kind of attire can actually look stunning and cute! 
Picking the correct work headwear that suits your rest of the uniform is most imperative to look at the manner in which you need to.
Here at USA work uniforms, we bring you colourful chef work uniforms and work headwear from Red Kap. The chef work headwear is made as per industry standards and is really comfortable to wear. Whether you stand in front of hot wok or a chef that into desserts, this chef work uniforms and work headwear is all you need.
This workwear headgears offer you the best of comforts. We at USA work uniforms also provide services like workwear decoration allow you to own a custom workwear uniforms. 
Custom work uniforms will allow your brand to be identified when any of your employees sport the workwear uniforms that are of your company with a logo printed on its back or the sides or just on the pockets. 
Workwear decoration has become one of the easiest ways to market your brand. This can be done through by just opting to decorate with the name of the employee along with your company logo.  Your brand and logo will speak for you. 
With our expertise in workwear decoration, we offer you to personalize the garment with your company logo, name design etc for brands that are available in our store. We customise the following workwear 
Work uniforms Sweatshirts
Work Headwear
Hi-vis workwear
Work Polos
Work Tunics
Apart from this we also decorate many other work uniforms that are listed on our website. 
We provide Our Customers with a 30-day return policy upon delivery. In stock, orders are usually shipped within 3 business days via USPS. If you place your order after 2 PM CST, it will not be processed until the following business day. 
Custom orders, holidays and weekends can affect the shipping timeline. Get your work shirts from brands like Bulwark Workwear, ML-Kishigo Workwear, Uncommon Threads Workwear etc. customised in a jiffy. Owning a customised uniform is now super simple.  
What are you waiting for?
Shop now
for the complete range of workwear uniforms here at our
USA Work Uniforms
.