Choose the right work polos
Choose the right work polos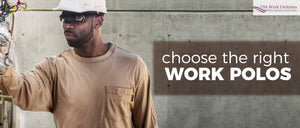 work Polos is a synonym of uniforms. Nowadays work Polos are considered as one of the best and comfortable work uniforms. With many companies adopting work Polos as their uniforms, It has become one of the major selling commodities in the uniform clothing industry. 
With the trend becoming popular and many people buying work uniforms polos, wearing one with style and looking confident is necessary. Here in this article of ours, we will let you know how well you can sport boring polos and look dashing!
Whether it is men or women, these tips will help you look your best in work Polos
Fabric plays an important role
Whether you are choosing work Polos for yourself or for your known person or for an organisation, choose the fabric wisely. Though cotton gives the best of comfort due to its natural fibres, it also demands a great deal of wash & aftercare.
Polyester is easy to maintain and returns to its original shape in a moments time and is great for people who work in the kitchen and factories which has spillage of liquids on a regular basis.  
Poly cotton provides the advantages of both making it more easier to care for and work with. This is best suitable for school uniforms and for long-duration wear as they give long-lasting comfort and with crease-free texture, Poly cotton becomes a hands-down first choice
Always choose the right fit. Undoing the first 2 buttons of the shirt gives a good structure to your face. 
Sleeves should often end at the mid of biceps and should fit snugly, neither too loose nor too tight. Any shirt sleeves that are loose makes your arms look smaller while tighter sleeves make your arms look tacky and bulky.
Choose the length of the shirt mindfully. Always a right work Polos should end at the mid crotch making it a perfect fit. Anything lesser or longer will add to the discomfort of the wearer. 
You can always pair a work polo with the right pair of jeans and chinos. 
With these things in mind, when you next shop for work Polos we are damn sure that you will pick the best work uniforms polos. 
If you are looking for buying work uniforms polos shirts check out our huge collection at USA work uniforms. 
These workwear pants offer you best of comforts of both the worlds (work and life). We at USA work uniforms also provide services like workwear decoration allow you to own a custom workwear uniforms. 
Custom work uniforms will allow your brand to be identified when any of your employees sport the workwear uniforms that are of your company with a logo printed on its back or the sides or just on the pockets. 
Workwear decoration has become one of the easiest ways to market your brand. This can be done through by just opting to decorate with the name of the employee along with your company logo.  Your brand and logo will speak for you. 
With our expertise in workwear decoration, we offer you to personalize the garment with your company logo, name design etc for brands that are available in our store. We customise the following workwear 
Work uniforms Sweatshirts
Work Headwear
Hi-vis workwear
Work Polos
Work Tunics
Apart from this we also decorate many other work uniforms that are listed on our website. 
We provide Our Customers with a 30-day return policy upon delivery. In stock, orders are usually shipped within 3 business days via USPS. If you place your order after 2 PM CST, it will not be processed until the following business day. 
Custom orders, holidays and weekends can affect the shipping timeline. Get your work shirts from brands like Bulwark Workwear, ML-Kishigo Workwear, Uncommon Threads Workwear etc. customised in a jiffy. Owning a customised uniform is now super simple.  
What are you waiting for?
Shop now
for the complete range of workwear uniforms here at our
USA Work Uniforms
.