Looking for Work Tunics? Check out the new collection at USA work uniforms.
Looking for Work Tunics? Check out the new collection at USA work uniforms.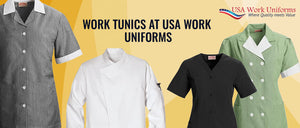 Safety is at most important in any industry. Whether it is a medical field or just any industrial set-up. Everyone wants safety. 
The hi-care zones in the medical field are more and the name itself states the intensity of care that is taken at this place of work. 
If you are a lady looking for a comfortable work tunics for this high care zone, Then look no further. We here at USA work uniforms bring you industries best work tunics that give you the protection you and your work environment desire. 
Work Tunics are usually worn on top of your regular clothes to avoid and contact of the outer world. When it's worn on top of regular wear you need it to be highly comfortable and easy to carry. 
As a medical assistant, you might want to carry heavy equipment or even lean down to reach something for your patient. Having a comfortable and free work tunics will help your day go smoothly. 
When there exists an emergency or just on a normal day, you don't want your dress to distract yourself with ill-fitting and other issues. The work tunics from Red Kap are one of the most trusted workwear in the industry. 
Workwear designed by Redkap is one of the highly sought after as the company has been in this industry from 1921 making its mark for quality. 
Each of the workwear designed is by taking inspiration from work sites. Making it a perfectly designed workwear to wear and to combat all the hurdles faced at work.
The work tunic, from Red Kap, Double-Breasted Lapel Tunic - 9S03 comes with the following description,
Two roomy front patch pockets bar-tacked at stress points

Modest top button placement

Additional fabric built into the underarm seam for a greater range of motion

Smooth, flattened sleeve seams for "no-rub" comfort

Back fixed belt and kick pleat

White trim in a dual-action repel/release fabric adds a touch of contrast to this pin cord topper.

4.5 oz., 75/25 Polyester/Cotton Pincord

Women's sizes: XS-'3XL

Light soil wash.
 With these comfortable, well thought out and beautifully designed work tunics from Red Kap, there arise no questions on looking any further. 
Buy this ultra-comfy tunic today at USA work uniforms today.
If you are looking for more workwear and workwear uniforms, we have a huge range of workwear clothing like, work Polos, uniforms Polos, work Sweatshirts, work uniforms Sweatshirts, work Headwear, men's work hats, work Outerwear, uniform Outerwear, workwear jacket, workwear pants, work pants, workwear decoration
We provide Our customers with a 30-day return policy upon delivery. WE SHIP ONLY IN THE USA! In stock, orders are usually shipped within 3 business days via USPS. If you place your order after 2 PM CST, it will not be processed until the following business day. Custom orders, holidays and weekends can affect the shipping timeline.
What are you waiting for? Shop now for the work tunics and other work uniforms here at our USA Work Uniforms.