Red kap's work Coveralls now at USA work uniforms
Red kap's work Coveralls now at USA work uniforms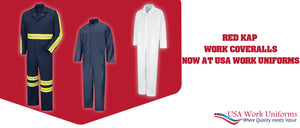 Work Coveralls that's ultra-comfortable is all we going to discuss in this blog.
Its officially Fall and you got to brace yourself up with the clothes that are perfect for the season. Whether its winter or autumn or even summer, you got to dress appropriately to happily get along with the weather. 
When you are a working person, dressing according to the weather might be a difficult task but not impossible. Work uniforms need a lot of care and detail to be classified as a work uniform. 
work Coveralls are one of the most versatile and a must in a workers closet. When the work Coveralls are made as per the industry norms and of full quality, it is sure to give the much-required safety and comfort. A work Coveralls needs to provide all the comfort and safety it is supposed to and can help you work all day without any issues. 
We at USA work uniform bring you high-quality Red Kap workwear. 
Red Kap workwear started in 1923, when two brothers and a cousin teamed up to sell bib overalls under a sign that read "Harlin Bros. & Williams." Turns out comfort, durability and great service were valued every bit as much back then as they are today, so naturally the business grew quickly.
The family soon expanded its catalogue to include a line of premium workwear. As they pondered the idea of what to name this new line, one of the founders pulled out his trusty pouch of Red Cap Brazil Smoking Tobacco. The bright red jockey cap on the tobacco label seemed like a perfect icon, and the brothers' own distinctive  Red Kap workwear logo was introduced in 1927.
An official name change followed in 1939. By this time, the family had continued to diversify even more. They now sold "matched sets" of work pants and shirts, along with the "Go-Getter" line of value-priced chambray shirts. Times were good.
Then suddenly, WWII threw the whole country into turmoil. Red Kap workwear did their part, pitching in on the war effort by manufacturing gas mask carriers, combat fatigues and work Coveralls. All were made to the same high standards America had come to expect from Red Kap workwear.
After the war, the company joined forces with a network of laundries to pick up, deliver and supply fresh uniforms to all sorts of businesses. Steady success followed, and by the 1960s, they had realized their dream of becoming a major player in the work uniform industry.
Today, the Red Kap workwear brand is stronger than ever. Proving once again that comfort, durability and doing things the right way simply never goes out of style.
We at USA work uniform bring you best of Red Kap workwear and the work Coveralls from Red Kap workwear have following features like, 
Adjustable cuffs with concealed rib-knit storm cuff

2-way zipper front zipper concealed with storm flap secured by snaps

2 upper front chest pockets with concealed snap flaps

2 large lower front patch pockets

2-way waist-waist-to-ankle zippers on legs secured with storm flap

65/35 poly/cotton duck and IL friendly

Lined with black quilted lining

Accommodates snap-on hood HD20 (sold separately)

View Size Chart

Blend: Shell: 65% Polyester / 35% Cotton

Lining: 100% Polyester

Insulation: 100% Polyester

*Insulation content may vary
Red Kap work Coveralls price ranges from $30.99 to $ 108.99 with varied features and applicable functionalities. Women's work overalls from Red Kap are also available at USA work uniform.
We at USA work uniform also provide services like workwear decoration allow you to own a custom Red Kap Women's work overalls and work Coveralls. 
With our workwear decoration and embroidery for Red Kap work Coveralls and Women's work overalls, we offer you to personalize the garment with your company logo, name design etc for embroidery work Coveralls for you or your employees.
We provide Our Customers with a 30-day return policy upon delivery. WE SHIP ONLY IN THE USA! In stock, orders are usually shipped within 3 business days via USPS. If you place your order after 2 PM CST, it will not be processed until the following business day. Custom orders, holidays and weekends can affect the shipping timeline.
What are you waiting for?
Shop now
for the
polo shirts
and other work uniform
here at our
USA Work Uniforms
.