USA work uniform's product spotlight: Bulwark Iq series
USA work uniform's product spotlight: Bulwark Iq series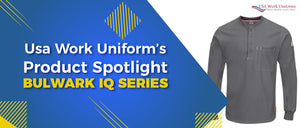 USA work uniforms shed the light on Bulwark's most iconic series Bulwark iQ Series®.  What the garment is all about, the material used to why you should invest in that. 
 Comfort and protection assurance has constantly been on the list f topics for the entire of FR garments industry. Previously, articles of clothing offered essential protection to the detriment of wearer comfort – attire was hot, awkward, and prohibitive. 
In the previous five years, there have been significant enhancements; today there are many lighter, progressively agreeable alternatives available.
A cutting edge technology in FR clothing that permits equivalent security at lighter weight also known as Westex texture is used to make the Bulwark iQ Series®. 
Bulwark Workwear has always been the brand that cares for its customers who wear their products. Not disappointing them, Bulwark Workwear re-invents the manner in which labourers feel and move in their FR suit. 
The presentation of the Bulwark iQ Series® not just gives FR clothing wearers a front line new alternative, yet it has planted the seed for future development that is easy to carry, comfortable and wear without any issues for longer durations.
The material used in Bulwark Shirts from iQ series is not just breathable, lightweight, delicate, and sturdy – they enable the wearer to move better and give brilliant moisture management because of a wickable liner like sportswear, keeping the labourer cool and comfortable throughout the day! 
Inside the Bulwark Shirts from iQ series (the side contacting the wearer's skin) is made of another FR polyester, which itself is an advancement from Westex. Broad testing was done to guarantee the texture is non-softening in all-important circular segment flash fire tests. This leap forward innovation implies the Bulwark Shirts iQ series brings to the FR world wicking and fast-drying properties which were just accessible in non-FR clothing.
At USA work uniforms we bring you a huge range of Bulwark Shirts from iQ series for both men and women. 
The Bulwark Shirts from iQ series starts from the range of $59.99 to $92.00. The Bulwark Workwear from iQ series consists of FR Shirts, FR pants, FR overalls, FR coveralls and FR jackets. 
The high-end Bulwark Shirts from iQ series comes with the following description. 
A comfortable, casual uniform polo shirt made for FR compliance. Believe it. The IQ Series uniform polo shirt are available in both short and long sleeve variations.
You can enjoy the lightweight, moisture-wicking material all year round. Underarm gussets allow you to reach, without your shirt coming untucked, while hidden ribbing in the cuffs keeps long sleeves in place. 
The zipper placket gives these  Bulwark Shirts from iQ series a contemporary and stylish look with CAT2 and 2112 labels easily visible on the sleeve.
Fabric: 5.3 oz. (180 g/m²) 69% Cotton / 25% Polyester / 6% Polyoxadiazole 

Protection: Arc Rating ATPV 8.2 calories/cm²(CAT 2) 

Care: Home Wash
Features:
Zipper front placket

Self Fabric collar

Raglan sleeves

Concealed rib knit cuffs

Full sideseam gusset

Concealed chest pocket with pencil stall

Concealed pencil stall sleeve pocket

Contrasting thread colour

iQ SeriesTM seam tag

iQ SeriesTM reseller hangtag
Certified by Underwriters Laboratories to meet the requirements of NFPA® 2112 Standard on Flame-Resistant Garments for Protection of Industrial Personnel Against Flash Fire, 2012 Edition.
We at USA work uniforms also provide services like workwear decoration allow you to own a custom Bulwark Workwear, Bulwark Shirts from iQ series and work Coveralls. 
With our workwear decoration and embroidery for Bulwark Workwear and Bulwark Shirts from iQ series and work Coveralls, we offer you to personalize the garment with your company logo, name design etc for Bulwark Workwear and Bulwark Shirts, work shirts, embroidery work Coveralls for you or your employees.
We provide Our Customers with a 30-day return policy upon delivery. WE SHIP ONLY IN THE USA! In stock, orders are usually shipped within 3 business days via USPS. If you place your order after 2 PM CST, it will not be processed until the following business day. Custom orders, holidays and weekends can affect the shipping timeline.
What are you waiting for?
Shop now
for the
polo shirts, work shirts
and other work uniforms
here at our
USA Work Uniforms
.