Horace Jackets is now available at USA Work Uniforms!
Horace Jackets is now available at USA Work Uniforms!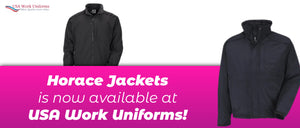 Workwear Jackets are one of the most important part of everyday life. Whether its cold weather or rainy all we reach out to immediately is jackets.
Choosing a jacket is a daunting task. From the material, fit the way it is made, everything matters. If you are looking for jackets for men, you have landed upon the right page. 
We here at USA work uniforms are glad to inform that we have got a brand new collection of Horace jackets just for you. These workwear jackets are all you need for your safety and feel-good factor. 
Horace is a company that is exclusively dealing with uniform making from 77 years.
Horace Small has continually optimized, engineered and fine-tuned their designs so the uniforms they make - like the men and women who wear them - are built for the call, ready to perform their duty, and suited for the ultimate act of service. 
Beyond this, Horace has also brought new fits, features and functionalities forward in the form of our "Plus" lines. These small, "stealthy" advances quickly and comfortably become the advantage – on patrol, or in pursuit. At the station, or on the street.
A look that commands authority.
A level of performance that instils confidence.
A calibre of quality that delivers unmatched value.
A colour consistency. In every scientifically-matched shade.
With quality manufacturing and well made, there is no reason why you should not buy Horace work jackets.
These work jackets come with the following feature:
Blend:

100% Nylon

Care:

Home Wash

Closure:

Two-Way Zipper

Cuff:

Elastic Cuff with Adjustable Hook & Loop Closures

Finish:

Durable, Water-Repellent

Interlining:

Zip-Out Insulated Liner for Added Warmth

Pocket:

Two Pleated Patch Pockets and Flaps with Button-Through Closure

Inside Pocket and Two Hand-Warmer Side-Panel Pockets

Waistband:

Elastic Back-Bottom-Edge
Other:

Articulated Gusset Allows Full Range of Arm Movement

Equipment Access Side Zippers

No Special Orders
Engineered as a lightweight workwear jackets, the Sentry® Windbreaker features a durable, water repellent nylon outer shell with a two-way zipper closure and a zip-out liner. This workwear jackets is loaded with pockets, including two pleated patch pockets, two hand-warmer side panel pockets, and an inside pocket. The windbreaker also features an articulated gusset design for a full range of arm movements.
What are you waiting for? Check out our entire range at USA work uniforms.
We at USA work uniforms also provide services like workwear decoration, embroidery and allow you to own a custom tee shirts. 
With our workwear decoration and embroidery for custom tee shirts, we offer you to personalize the garments with your company logo, name design etc. 
We provide Our Customers with a 30-day return policy upon delivery. WE SHIP ONLY IN THE USA! In stock, orders are usually shipped within 3 business days via USPS. If you place your order after 2 PM CST, it will not be processed until the following business day. Custom orders, holidays and weekends can affect the shipping timeline.
What are you waiting for?
Shop now
for the
polo shirts
and other work uniforms
here at our
USA Work Uniforms
.