Bulwark sweatshirt buy it today at USA Work Uniforms
Bulwark sweatshirt buy it today at USA Work Uniforms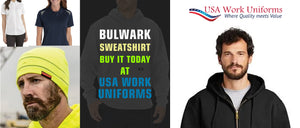 In these months of cold, everyone needs to be cosy and comfortable. But, being cosy doesn't mean you need not go for work anymore. You have to go to work every single day, whether it is summer or winter or spring. 
Bulwark one of the top Flame resistant workwear manufacturer understands your needs. During winter months, instead of wearing layers of clothes to keep your self comfortable in cold weather, you can just enjoy the same comfort with Bulwark sweatshirt.
What so special about these Bulwark sweatshirt you ask? 
6 in every 10 person wears Bulwark workwear. It is for a reason that the brand offers to its customers. Each and every product that gets designed in Bulwark workwear is for specifically designed for that definitive usage and this helps the wearer to the max. 
Bulwark workwear a team that specifically works by taking views of labourers who wear the work uniforms regularly. Bulwark workwear company is working on improving the quality and comfort of the wearers day in and out taking their feedback. 
Just the same way as others, This Bulwark sweatshirt was born to keep you away from layers. Some of the distinctive features of the Bulwark sweatshirt is as listed below. 
12.5 oz., 95% Cotton/ 5% Spandex Brushed Fleece

Flame-resistant

Hood with drawstring closure

Zipper front

Hemmed sleeve with elastic

Elastic Waist

Two patch pockets

Home Wash
Keeping everything in mind, these Bulwark sweatshirt has been tested and approved by  NFPA® 2112 Compliant, Certified by Underwriters Laboratories to meet the requirements of NFPA® 2112 Standard on Flame-Resistant Garments for Protection of Industrial Personnel Against Flash Fire, 2012 Edition. 
The Bulwark sweatshirt garment is also rated by Cat 2 for Arc and the rating has been issued as  Arc Rating EBT 17.0 calories/cm². These things make the Bulwark sweatshirt more trustworthy. This hoody is also checked for durability. 
The Bulwark sweatshirt has a hood with drawstring closure, Zipper front, Hemmed sleeve with elastic, Elastic waist, Two patch pockets making it a complete garment that serves the purpose of utility. 
You can get these comfortable FR hoodies here at USA workwear. We also have many Bulwark workwear in USA Workwear. You can check out the whole range here. 
Check out other options of sweatshirts here.
To make the buy visit our store USA work uniforms to buy all your workwear at a wholesale price. Do not forget to check out our entire range of Bulwark workwear apparels. 
We provide Our customers with a 30-day return policy upon delivery. WE SHIP ONLY IN THE USA! In stock, orders are usually shipped within 3 business days via USPS. 
If you place your order after 2 PM CST, it will not be processed until the following business day. Custom orders, holidays and weekends can affect the shipping timeline.
What are you waiting for?
Shop now
for the apron and other uniforms here at our
USA Work Uniforms
.