Customization & workwear decoration at USA work uniforms
Customization & workwear decoration at USA work uniforms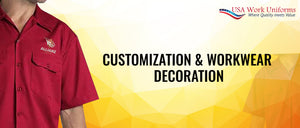 Workwear decoration, Embroidered work shirts, Uniform embroidery, Custom embroidered shirts, Custom embroidery online, embroidery online, embroidery Work Vests all of these are now available at USA work uniforms
Customized uniforms have become mandatory nowadays. Earlier the uniforms meant wearing one type of clothes for all employees. It really meant matching the colours.
Same coloured shirt and pants would make a cloth uniform. But, gone are the days where only the colours are matched. Now everyone wants a logo or their brand image on their uniforms. 
Having a logo embroidered on your uniforms gives your brand good marketing- Visual marketing.
This visual marketing allows people to identify your brand where ever your employees go. 
Having known the new trend are you wondering where you can get this done? 
Worry not, USA work uniforms does not only offer branded uniform clothes, but it does also offer embroidery service. 
The USA work uniforms provide embroidery service on all ranges of work uniforms that are available at USA work uniforms. Each of the garment at USA work uniforms is from trusted and well-known brands making your buy easy.
Get your uniforms customized today. USA work uniforms provide embroidery services on all types of garments. 
Whether it is a shirt, hoody, FR clothes, hi-vis clothes or caps. Our embroidery services are manually digitized to get professional results. 
We provide embroidery on the front (left and right ) and backside of the garment. 
If you are looking for more workwear and workwear uniforms, we have a huge range of workwear clothing like, work Polos, uniforms Polos, work Sweatshirts, work uniforms Sweatshirts, work Headwear, men's work hats, work Outerwear, uniform Outerwear, workwear jacket, workwear pants, work pants, workwear decoration
We provide Our customers with a 30-day return policy upon delivery. WE SHIP ONLY IN THE USA! In stock, orders are usually shipped within 3 business days via USPS. If you place your order after 2 PM CST, it will not be processed until the following business day. Custom orders, holidays and weekends can affect the shipping timeline.
What are you waiting for?
Shop now
for the
work polos
and other
work uniforms
here at our
USA Work Uniforms
.